VFD Packages
---
The packages are built to meet the required specifications of the client and prompt delivery is ensured as well as ongoing service and support.
We can incorporate different harmonic solutions, motor protection filters, HMI's, PLC's and all types of control products to ensure the system is designed for each application.
The packages are completely wired, tested and ready for field installation.
Redhead is a fully certified CSA/ETL manufacturer and is capable to provide products for applications worldwide.
NEMA Ratings
Packages are available in all NEMA ratings, below are the most common enclosures used.
NEMA 1
NEMA 12
NEMA 3R
NEMA 4
NEMA 4X
VFD Interface Capability
We can interface the VFD's with many types of controllers, PLC's, DCS systems, as well as stand alone PID control.
Stator
The stator core is laminated with high quality electrical steel with high permeability and low losses allowing the motors to operate more efficiently.
The stator windings utilize Class F insulation (Class H insulation is available on request)with polyimide enamel round wire and VPI treated providing strong mechanical support, superior electrical insulation, misture and contamination resistance, and uniform heat dissipation.
Thermistors(PTC) are embedded in windings (Thermostats are available on request), one each phase.
Rotor
The squirrel-cage totors are of cast aluminum alloy. fixed on the shaft by means of hot fit. The rotor is dynamically balanced to reduce vibration.
---
| Frame size | Drive end bearing | Non-drive end bearing |
| --- | --- | --- |
| NEPM14 | 6206-2Z | 6206-2Z |
| NEPM18 | 6207-2Z | 6207-2Z |
| NEPM21 | 6208-2Z | 6208-2Z |
| NEPM25 | 6309 | 6309 |
| NEPM28 | 6311 | 6311 |
| NEPM32 | 6312 | 6312 |
| NEPM36 | 6313 | 6313 |
| NEPM40 | 2P: 6313 | 4,6P:6318 | 2P: 6313 | 4,6P:6318 |
| NEPM444-445 | 2P: 6314 | 4,6P: NU319 | 2P: 6314 | 4,6P: NU319 |
| NEPM447-449 | 2P: 6314 | 4,6P: NU319 | 2P: 6314 | 4,6P: NU319 |
Bearing and lubrication
The motors are fitted with low noise and low vibration bearing special for motors. For the motors in frame size 210, bilaterally shielded ball bearing are used without replenishing grease. For the motors in frame sizes 250 and above, the open bearing are equipped with attachments having the function to drain and replenish lubricating grease without stopping the motor. No. 3 Lithium Base grease is used unless specified otherwise. Bearing design life is at least 40000 hours at rated load. Bearing size, see table 1.
Conduit Box
The conduit box is on the central libe of the enclosure. It can be F1/F2 convertible. The conduit box is made of cast iron and the opening utilizes Standard NPT threads (Metric threads and holes are available on request). There are grounding bolts and a connection diagram inside the conduit box.
Motor main leads and thermistor leads are loose keeping in conduit box (Therminal blocks are available on request).
Fan and Fan Cover
The fan is made of plastic or cast iron to different applications. The fan cover is made of steel sheet or cast iron depending on different operating conditions.
Sunshade
A sunshade is recommended when the motor is intended for outdoor installation in direct sunlight with an ambient temperature rating of over 40 degree C.
Redhead VFD Packages
We have many packages and enclosures in stock and ready for immediate delivery.
RH200 Oilwell Drive
SE200 Oil Well Drives offer sensorless motor control which allows our units to run a rod pump without the use of dynamic braking resistors.
RH200 Oilwell Integrated Rod POC Drive
Onboard automatic voltage regulation allows the SE200 Oil Well Drive to efficiently operate rod pumps, even applications that are excessively out of balance.
VFD Specs
| VFD | Package |
| --- | --- |
| 10HP | VFD package T3R-10-460 |
| 15HP | VFD package T3R-15-460 |
| 20HP | VFD package T3R-20-460 |
| 25HP | VFD package T3R-25-460 |
| 30HP | VFD package T3R-30-460 |
| 40HP | VFD package T3R-40-460 |
| 50HP | VFD package T3R-50-460 |
| 60HP | VFD package T3R-60-460 |
| 75HP | VFD package T3R-75-460 |
| 100HP | VFD package T3R-100-460 |
| 125HP | VFD package T3R-125-460 |
| 150HP | VFD package T3R-150-460 |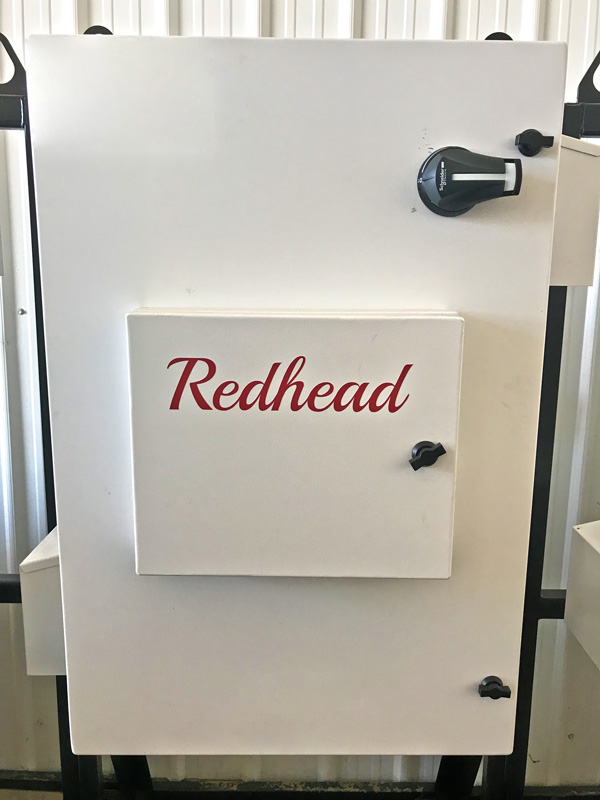 If you're looking for peace of mind with your pumping equipment purchase, you've come to the right place. Contact Redhead Artificial Lift to get started.
Call (587) 605-1061 Today